Why do people hate the DMV? Because there is no "ALOHA"!
Yes, it is possible to get great service from the Department of Motor Vehicles, although your mileage may differ!
We do things a bit differently here in the islands. Take the DMV on the BIg Island.
They built a big now government complex to move DMV and property tax and so on into one complex. They thought ahead though.
Our DMV is in part of the complex with a waiting room outside. The weather allows us to do that.
The Courtyard and Waiting Area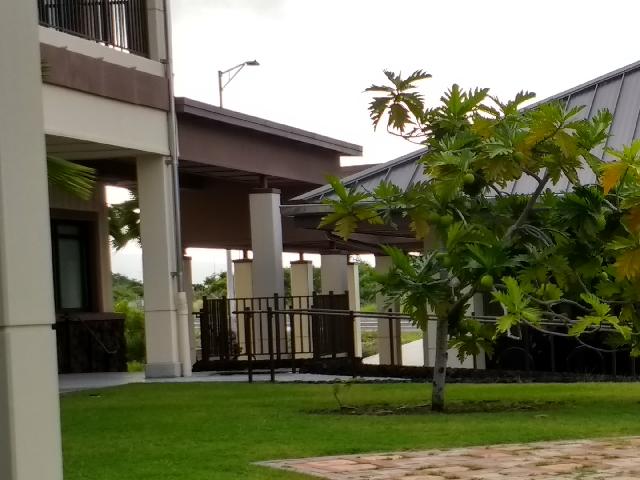 The Waiting Area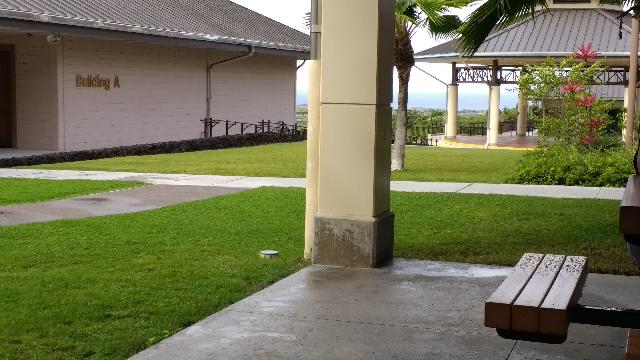 There are picnic-style tables there, however I didn't take photos as people were sitting at them and I didn't want to intrude.
You first line up at a kiosk with a "triage-type" helper. She asks why you are there, ensures you have the correct paperwork and if so, hands you a number. Numbers are called out of order for various reasons. D-17 is a drivers slip where M-12 might be a registration, etc.
You wait at a table (or talk on your cell, etc) until your number is called over the P.A. There is also a TV monitor with the last few numbers called so that you can see if you missed the announcement.
It is OK to sit on the floor or use your cellphone!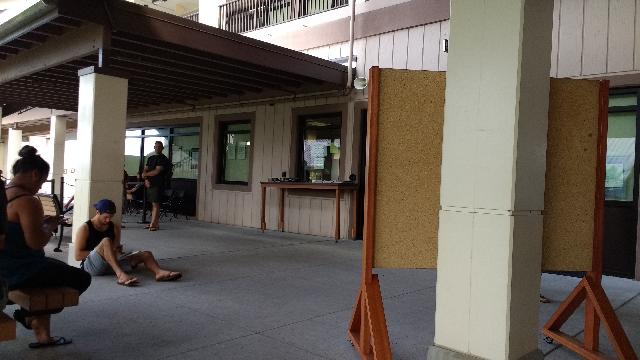 The Monitor With Recent Numbers Called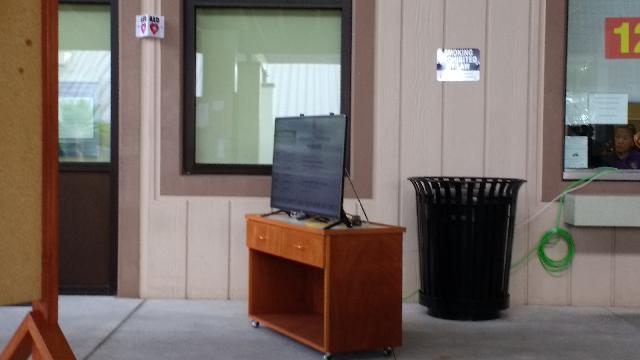 You are directed to a window either outside or inside to complete your transaction.
So the other day I went to renew my license. IN other states it expired on the last day of the month, here it actually expires on your birthday. Still, they said that even though I was a week late, there was no fine or extra charge (I guess I would have only gotten a ticket or warning if stopped).
The triage person said I needed proof I was a resident (I had a utility bill), two photo IDs (I had a passport and my old license) and cash or check. The issue came up that my utility bill and license show my PO Box. This is because there is no mail service to my house and generally we don't use street addresses in my area. She said I needed proof of my SS number and proof of my actual physical address. She suggested I just go to the property tax office and get a coy of my tax bill. That took all of 7 minutes.
I was about to drive home (30 minutes away) to get my SS card from the safe when I spotted my Medicare card and my SS number on it. She said that was acceptable and I was issued a number to wait.
IN a short while they called my number and I went inside. The last time my eyes were tested, I had some kind of peripheral vision issue and they placed a restriction on my license that I had to have side mirrors :-0 ??? OK, what car doesn't have side mirrors nowadays? Anyway this time they tested my eyes and I passed completely and the restriction was lifted.
The whole time I was treated with respect and friendly "aloha".
Total time to get the license from start to finish including the side trip to the property tax office was 1 hour!
Is your DMV in a building this nice?
Dedication and Blessing Ceremony